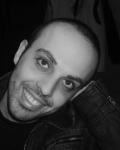 Domenico Ciuonzo, Ph.D. (Former Ph.D. Student)
Assistant Professor, Università degli Studi di Napoli "Federico II" ‑ Italy
This email address is being protected from spambots. You need JavaScript enabled to view it.
domenicociuonzo
Biography
Domenico Ciuonzo is an Assistant Professor at Department of Electrical Engineering and Information Technologies (DIETI) of University of Naples, Federico II, Italy. He was born in Aversa, Italy, on June 29, 1985. He received the B.Sc. and M.Sc. (summa cum laude) degrees in computer engineering and the Ph.D. degree from the Second University of Naples (now University of Campania "L. Vanvitelli", Aversa, Italy, in 2007, 2009, and 2013, respectively.
In 2011, he was involved in the Visiting Researcher Programme of NATO CMRE, La Spezia, Italy. In 2012, he was a Visiting Scholar with the ECE Department, University of Connecticut, Storrs, CT, USA. In 2015-16 and 2018, he held visiting appointments at the Department of Electronics and Telecommunications, Norwegian University of Science and Technology (NTNU), Trondheim, Norway and at Centre Tecnològic de Telecomunicacions de Catalunya (CTTC), Castelldefels (Barcelona), Spain.
In 2013-2014, he was a Post-Doctoral Researcher at DIII, Second University of Naples, Italy. From 2014 to 2016, he was a Post-Doctoral Researcher with DIETI, University of Naples, Federico II, Italy. During 2017-18, he was a permanent Researcher at NM-2 s.r.l., Naples, Italy.
His reviewing and editorial activities were recognized by the IEEE Communications Letters, IEEE Transactions on Communications, IEEE Transactions on Wireless Communications, and MDPI, which nominated him Exemplary Reviewer and Editor, respectively.
Since 2014 he has served as Associate Editor for several IET, Elsevier and IEEE journals. Currently, he is also an Area Editor for the IEEE Transactions on Aerospace and Electronic Systems and the IEEE Communications Letters.
Since 2016 he is an IEEE Senior Member. Recently, has also served as member of an IEEE panel for elevation of members to the same grade.
His research interests fall within the areas of data fusion, network traffic analysis, statistical signal processing, IoT and wireless sensor networks and wireless communications. Domenico Ciuonzo has co-authored 75+ journal (IEEE TWC, IEEE TCOM, IEEE TSP, IEEE T-AES, IEEE TNSM, IEEE TNSE, Elsevier InfFus etc.) and conference (CDC, Fusion, TMA, ITC, SAM, SPAWC, Globecom, etc.) publications.
He is co-author of the book "Data Fusion in Wireless Sensor Networks: A Statistical Perspective", published by the Institution of Engineering and Technology (IET) (published in April 2019), involving several worldwide experts of the field.
Domenico Ciuonzo has served and serves as independent reviewer/evaluator of research and implementation projects and project proposals co-funded by European Science Foundation (ESF), L'Oréal-UNESCO UK and Ireland For Women In Science Fellowships, Engineering and Physical Sciences Research Council (EPSRC) and Australian Research Council (ARC).